I have always loved sports.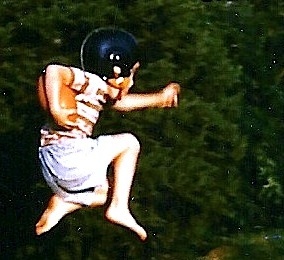 My dad, my older brothers and I would play touch-football a lot in our side yard. My father was always the quarterback. He'd throw the passes and my brothers and I would run patterns. One late-summer day, it was just my dad and I. Here I am catching one of his passes mid-air, tucking the ball in my arm, just like I saw the pros d0 on TV.
BORN: Marblehead, Massachusetts

LITTLE LEAGUE POSITION: Second Base, Pirates

FAVORITE SPORTS TEAM: Boston Red Sox, Washington Nationals, and Boston Celtics

CURRENT RESIDENCE: Silver Spring, Maryland

FAMILY: My wife is a substitute teacher at Woodlin Elementary School,
my son is the pitching coach on a college team and my daughter is in graduate school, studying for a master's in education.


I was born in Marblehead, Massachusetts, a seaside town north of Boston. Most of my family still lives there — I have four big brothers and two sisters! All of them have families of their own now and when we get together, we are one big noisy crowd.

My dad loved sports. One of my earliest memories is watching the 1957 World Series on TV with my dad and my brothers. I was four years old and the TV was black-and-white.

My dad was my Little League coach and my brothers were my teammates in backyard football and "driveway basketball."

When I turned eighteen, I left behind my sports-happy childhood and headed to the University of Pennsylvania in Philadelphia. I've always loved U.S. and world history and I made history my major in college. I also love sports history because of all the great dramas and big personalities. That's why I weave real sports history into all my stories.

After I graduated from the University of Pennsylvania, I went to George Washington Law School in Washington, DC.

Shortly after I graduated, I met Peggy Jackson, a journalist. We got married two years later and now have two grown children. Our son is the head baseball coach at a D1 college, and our daughter is a school librarian. When they were in elementary school, I coached their baseball, basketball, and soccer teams – more than 30 teams in all!

I was a lawyer for many years and retired from practicing law so that I could write for kids full time. And I'm glad I did. I get to spend a lot more time writing and I get more time to visit schools and talk with kids about my books. I also speak at a lot more conferences and meet more cool teachers and librarians.

That's my life in a nutshell.


WHERE DO YOU GET YOUR IDEAS FOR YOUR BOOKS?

Some of my ideas come from own childhood — I lost my favorite glove just like Jamie in The Golden Glove. Some of ideas come from my experience as a coach — Brendan in Playoff Dreams is a lot like a kid I saw on another team. He was a crackerjack player who was frustrated that his teammates kept messing up
WHEN DID YOU KNOW THAT YOU WANTED TO BE A WRITER?

I don't know if there was any one moment. When my wife was a reporter on a local paper, she suggested that I try writing movie reviews. The editor liked the idea and I had a lot of fun doing it. Who wouldn't? I was getting paid to watch movies! And it was so cool to see my name in the newspaper. I guess that's when I got the writing bug
WHY DID YOU START WRITING KIDS' BOOKS?

When my son was little, I read sports books aloud to him and I thought, "Hey, I can write books like this!"

HOW CAN I BECOME A WRITER?

Lots of stuff happens in your life. The difference between you and a writer is that a writer writes it down. You can start now. Keep a journal and write your story! You will love reading it when you are older. When you write assignments for school, show them to someone else and listen to their comments and then make changes. My first drafts are never my final books. I make lots of revisions to get it right. One more thing: read a lot. Good readers make better writers.

HOW LONG DOES IT TAKE YOU TO WRITE A BOOK?

Six months from start to finish. First I outline the story in a notebook. Then I go back and put in more details. The notebook is pretty messy by the time I'm finished outlining! But the outlines are crucial. When I sit down to write, I constantly consult my notebook. I write for an hour a day until I get a story that I'm proud to send to my editor.

WHAT IS SOMETHING THAT KIDS WOULD BE SURPRISED TO LEARN ABOUT YOU?

I love going to art museums. I live near Washington, DC, which has a lot of fantastic museums. My favorites are the National Gallery of Art and The Portrait Gallery.


DO YOU LIKE TO READ?

YES!! I read a ton. I always have. As a kid I read sports fiction - like the books I write now. At bedtime, when my parents thought I was sleeping, I would be reading a book under my covers with a flashlight. Now I mostly read books about history. A lot of kids like fantasy and reading about different imaginary worlds. I like to read history because I feel like I am exploring a very different world than the one I live in today; but it's a real world and that makes it even more interesting for me.


WHAT IS YOUR FAVORITE SPORT?

I played soccer, baseball, football, basketball, golf, and tennis as a kid. But my favorite sport to watch is baseball. And my favorite sport to play now is golf (it's cooler than you think).